4871 Glade Chapel

Hillsboro, Mo. 63050

Gary       # (636) 226-7084  

Steve      # (314) 599-6166

Russell   # (314) 800-9246

          Email:

BasicConcreteandGarages

@Gmail.com      

               OR

RussellMoss67@Gmail.com

  4871 Glade Chapel

  Hillsboro, Mo. 63050                         WEB:  basicconcreteand

                                                                      garages.com

  Gary      # (636) 226-7084

  Steve     # (314) 599-6166

  Russell  # (314) 800-9246

  E-Mail:  BasicConcreteandGarages@Gmail.com

                                       or

              RussellMoss67@Gmail.com

  We are Registered with the Better Business Bureau.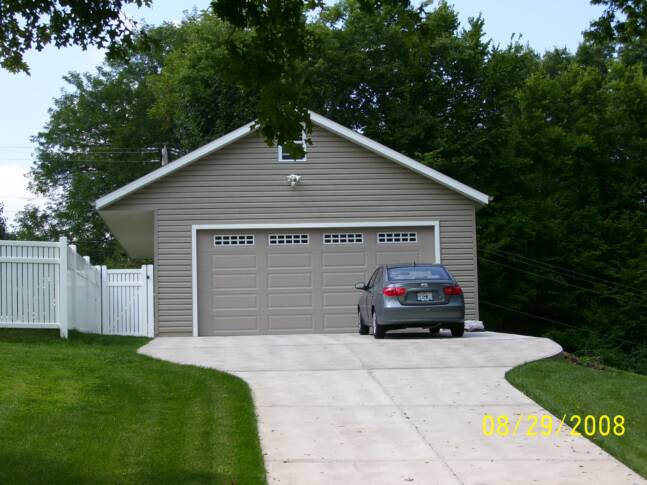 Driveway   and         Garage

  24x24sq.ft. Garage       

   It includes Doors,

       and a window,             Concrete Floor 

           Also                        Choice of Color

    Siding and Roof.   

1. Customers come first.

2. We do what we say we're going to do, within an agreed timeframe.

3.  Reg. with the B.B.B.

Basic Concrete & Garages LLC.

               (636) 226-7084

          Our Building Price Includes

  -   Vinyl Siding (variety & color options available)

  -   9'x7' or 16'x7' Steel Insulated raised panel                           Overhead Door (variety and color options available)

  -   Full 36" insulated Service Door with threshold

  -   36" Vinyl insulated Window

  -   25 Year self-seal Asphalt Roof Shingles

  -   15# Felt Paper under roof shingles

  -   12" Vented Overhangs on eaves and gables

  -   16" On Center full House Studs with 2"x12" Header

  -   Engineer sealed roof Trusses

  -   OSB Subsiding and Roof Sheathing

  -   Treated Bottom Plate

  -   4" Reinforced Concrete Floor

  -   Raised Concrete Curb